Inguinal Hernia Belt - 4030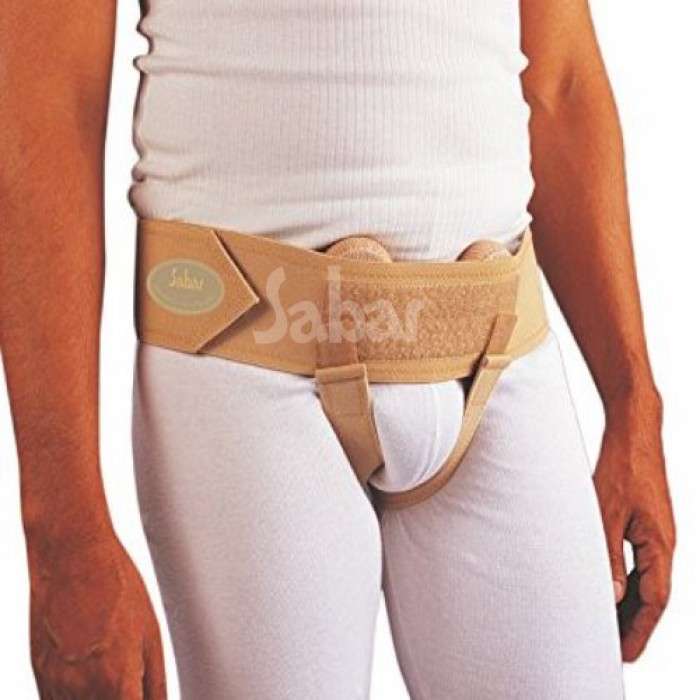 Hernia Belt - Sabar Inguinal Hernia belt
is designed to apply consistent pressure to an affected area, significantly reducing the pain associated with herniated tissue and reducing the risk of developing a hernia-related medical complication. It increases comfort for patients who are waiting for surgery.
Sabar Hernia belts are designed to push the herniated tissue back into the body, it will increase patient comfort, allowing the patient to engage in normal activities, and it will greatly reduce the possibility of strangulation.
The Hernia belt can also be worn after surgery to reduce the chance of recurrence and give the site an opportunity to heal.
Designed to maintain reducible Inguinal Hernia or a rupture in reduction.
Made from finest quality of cotton-based ventilated surgical elastic.
Gives adequate pressure with adjustable and comfortable pressure pads.
Either pad can be removed to support a single Hernia.
Leg straps are adjustable and are made up of soft elastic.
Hides well beneath clothing.
Fixes with Hook and Loop Fasteners.
Sizes :

Product is available in 70, 80, 90, 100, 110, 120 cms.

To order correct size measure circumference of waist 10 cms. below navel. ( Refer the sketch shown in the product image gallery section.)