Shoulder Support - 2130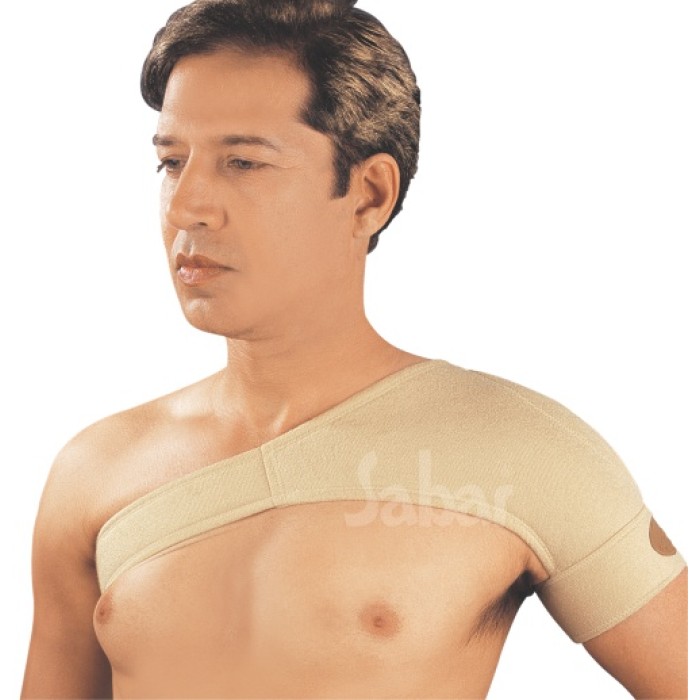 Sabar Shoulder support
is used for dislocated shoulder, frozen shoulder, broken collar bone, Rotator Cuff and Acromio- Clavicular injuries.
The shoulder support provides support, therapeutic heat and shoulder pain relief. It is used as a post-operative support to joint and aid for faster healing.
The shoulder support is a unique support that guides and centers the gleno-humeral joint promoting mobility but inhibiting rotation.

Is used as post-operative support to joint and aid for faster healing.

Provides support, controlled compression and therapeutic warmth to the shoulder and upper arm and allows the athlete or patient to gradually return to full range of motion.

The shoulder support is constructed from lightweight and durable thick foam laminated fabric mesh.

Has straps on both the side of arm with buckle provides adequate compression and support to the shoulder.

Has pad at the joint that gives the wearer extra protection.

Has adjustable strap at arm provides proper grip for lifting the arm.

Fixes in either left or right arm.

Minimizes chance of future injury.

Is inconspicuous and comfortable to wear.

Is machine / hand washable.


Is available in attractive Beige color.
Sizes: Product is available in S,M, L, XL, XXL sizes.
To order correct size measure circumference of Arm. ( R
efer the sketch shown in the product image gallery section.
)