Heating Pad - HB 950 - (Large)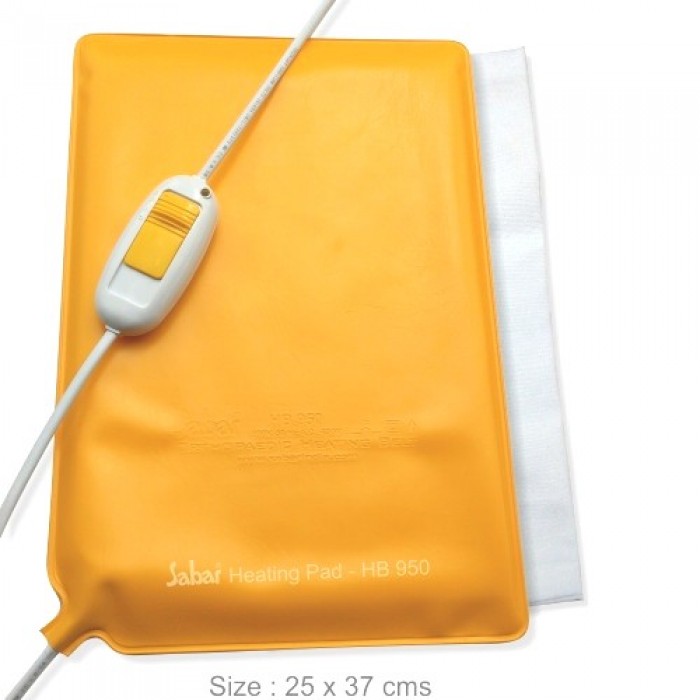 Heating Pad - Sabar Heating Belt – HB 950
delivers controllable, gradual, penetrating and soothing heat to specific areas of the body, relieving aches and pains.

The electric heating pad provides great relief to aching muscles & joints. The Heat pads are constructed with PTFE coated heating Elements, providing highest user safety.
Sabar Heating Belt - HB 950 provides,

Greater pain relief in joints, backaches, stiff-neck etc

Relief from body pain caused by bone related disorders like Spondylosis, Lumbago, Rheumatism, Arthritis, frozen shoulder etc.

Relief from post-delivery, post-operative and menstrual pain under doctor's guidance.

Relief to Sportsman, Athletes and persons suffering from strained limbs, Pulled Muscles etc.

Sabar Heat Belt - HB 950 bears following features.
Flexible - to fit all parts of the body.

Specially designed PVC material as a coat for extra strength.

Comfortable two levels heat settings.

Automatic thermal cut-off.

PTFE - (Teflon) coated heating element for 100% Safety.

Approved to Q.C. certification.

Washable cotton cover.

Warranted for 12 months.

Size: 25 x 37 cms


Power: 230 V AC - 63W - 50 Hz.



Technical Data
Size
25 x 37 cms
Operating Voltage
230 V, AC, 50 Hz, 63 W
Heat Level
Two levels of Heat - High and Low
Cut-Off Temperature
80*C