Heating Pad - HP 1200 - (King Size)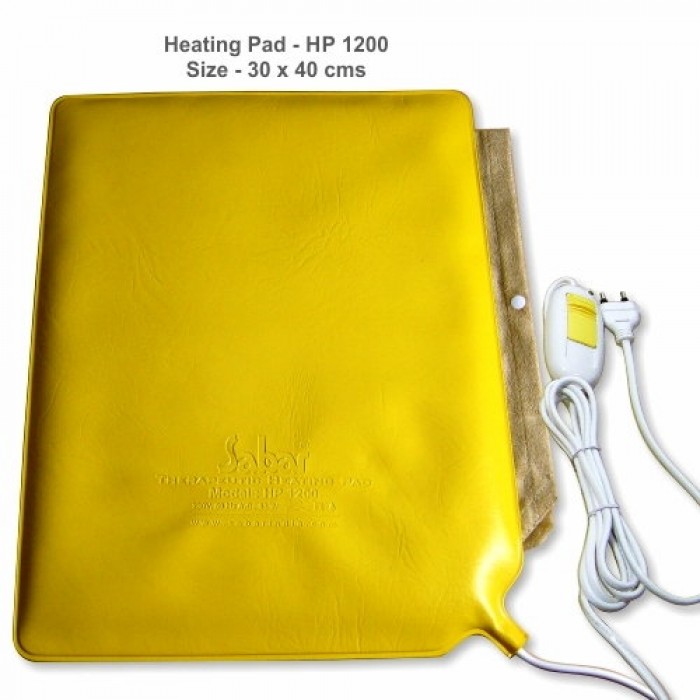 Heating Pad - Sabar Heating Pad – HP 1200
(Export Quality - Large - King Size)
Sabar Heating Pad delivers controllable, gradual, penetrating and soothing heat to specific areas of the body, relieving aches and pains.
The Electric Heating Pad provides great relief to aching muscles & joints. The Heat pads are constructed with PTFE coated heating Elements, providing highest user safety. Heating Pad HP 1200 is being the extra large size it is more suited to use at the entire back and lower hip area.
Sabar Heating pad - HP 1200 provides therapeutic and soothing warmth.




Being extra Large size, it provides greater pain relief in joints, backaches, sore lower hip area.




Relief from body pain caused by bone related disorders like Spondylosis, Lumbago, Rheumatism, Arthritis, frozen shoulder etc.




Relief from post-delivery, post-operative and menstrual pain under doctor's guidance.




Relief to Sportsman, Athletes and persons suffering from strained limbs, Pulled Muscles etc.



Sabar Heat Pad - HP 1200 bears following features:
Flexible - to fit all parts of the body.

Specially designed Thick PVC material as a coat for extra strength.

Comfortable two levels heat settings.

Automatic thermal cut-off.

PTFE - (Teflon) coated heating element for 100% Safety.

Approved to Q.C. certification.

Washable attractive velvet cover.

Warranted for 12 months.

Size: 30 x 40 cms.


Power: 230 V AC - 63W - 50 Hz.



Technical Data
Size
30 x 40 cms
Operating Voltage
230 V AC, 50 Hz, 63 W
Heat Level
Two levels of Heat - High and Low
Cut-Off Temperature
80*C