Thermo Backguard - 3092 XC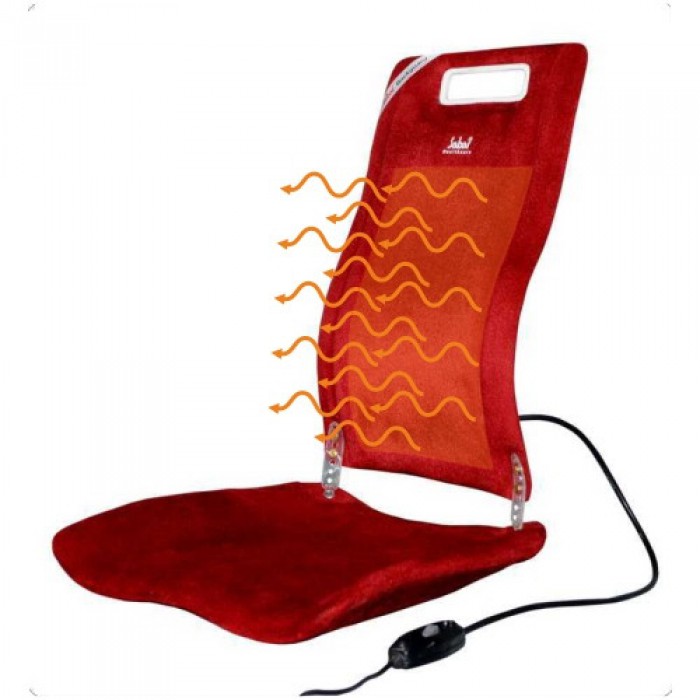 Back Support - Sabar Thermo Backguard 3092XC
- backrest - Thermal Lumbar Support Seat is an ergonomically crafted add-on backrest to give XTRA contoured support to thoracic, lumbar and sacral part of the spine along with soothing warmer. Warmer provides therapeutic warmth with two levels of warm control.
It is an anatomically designed seat to take care of your ergonomic seating requirements and ideal spine alignment along with delivering gradual, controllable, penetrating and soothing warmth to the entire thoracic, lumbar & sacral part of the spine and side muscles, relieving ache and pain and make feel you relaxed.
Thermo Backguard 3092XC is an ideal back support for a chair at home, office, car, train and even in the home garden and it fits over the most type of seating arrangements.
Contoured two-piece moulded backrest seat ensures back curve in ergonomic and anatomic shape.



Ideal backrest for a chair at

home, office, car

etc.. and it fits over the most type of sitting arrangements.

Backguard is designed in two parts and made-up of special sturdy un-breakable FRP material.

Therapeutic warmer designed to provide soothing warmth and is fixed in Backrest for added advantage.




The EXTRA curvature is to suit people weighing approx. 70 Kgs and above.




The height of back-rest is adjustable as per individual requirements.



Built-in handle for easy carrying.


Lightweight and folds easily.




Attractive design with fabric lamination.




Available in multi colours.



Backrest : Width -11.5 In. (29.cm.),




Height - 19. In. (48.25cm.)




Base seat : Width - 16.5 In. (42cm.),




Depth - 14.75 In.(37.5 cm.)




Weight : 2 Kg.(Approximate)



Power Input : 12 V AC/DC 15 W




Heat Level : High & Low



Technical Data
Operating Voltage
12 V AC Or DC, 15 W
Heat Level
Two levels of Heat - High and Low